The Solaris Lights are an ancient source of power. It was created from the solar energy of every sun in The Universe. It first appears in The Dark Avenger Part 2. It was first inside a silver sun face trinket box. The second time it was in the abandoned, haunted Anna Woods Magic Theater guarded by the ghost of the theater's greatest magician who died there, The Great Valker. The third time it was beneath the soil of Anna Woods Island. The fourth time in was in one of the three Anna Woods Island freeways. The fifth time it was inside the volcano of Anna Woods Island, Mt. Arga. The sixth time it was inside the largest statue in Anna Woods Square, The Angel Of Anna Woods. The seventh and last time it was in the center of the Earth.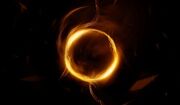 Ad blocker interference detected!
Wikia is a free-to-use site that makes money from advertising. We have a modified experience for viewers using ad blockers

Wikia is not accessible if you've made further modifications. Remove the custom ad blocker rule(s) and the page will load as expected.